JustAskPoland is getting vaccinated! I received my Pfizer vaccination two days ago on Tuesday: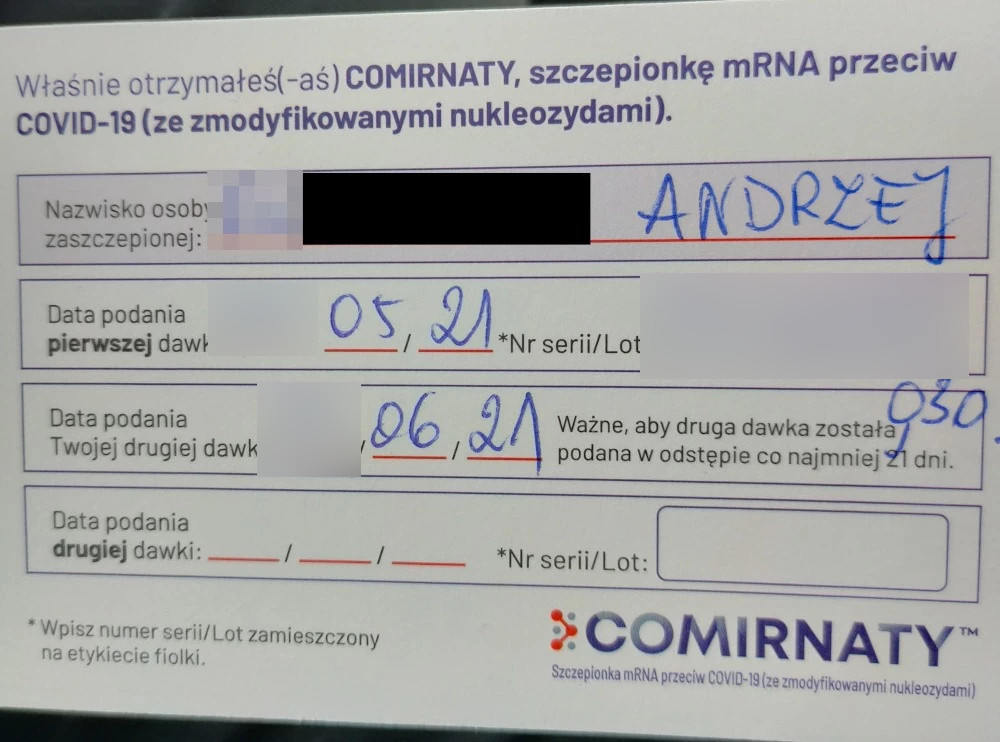 I was supposed to get the vaccination at 14:15, but the vaccnation did not arrive on time, it arrived at 16:00. The vaccination process itself was very easy and fast, it literally took 2 minutes.
JustAskPoland encourages everyone to get a vaccination. You protect not only your health, but also those who cannot be vaccinated due to health reasons.
How to register for vaccination
If you have a PESEL number, or if you hold a residence permit, you are eligible for vaccination. See https://www.gov.pl/web/szczepimysie/information-for-foreigners for more information.
First – if you don't already have one – you need a vaccination referral. You can get one from your doctor. Once your referral has been issued, you can register for vaccination:
Some Covid numbers
About 1/3 of the population in Poland is vaccinated (at least one dose). During the last month, the number rose from 20% to over 30%. The map is interactive.
The number of new Covid cases declined drastically during the last time and is quite low now. Still, it's about 10 times more than it was a year ago.
Another interesting chart is the effective reproduction rate of the virus.
See also our old Covid-19 article: https://www.justaskpoland.com/covid-19-vaccine-plan
(Visited 174 times, 1 visits today)